Hive Wasp-100-3Kit
€ 135.00 Ανά Ημέρα + ΦΠΑ
€ 324.00 Ανά Τριήμερο + ΦΠΑ
€ 454.00 Ανά Εβδομάδα + ΦΠΑ
€ 1053.00 Ανά Μήνα + ΦΠΑ
LED RGB Spot 3 Light KIT
Equivalent to 750Watt
Temp: 1650K to 8000K
CRI: 98 - TLCI: 97
Consumption: 75Watt
24-36V 4pin-XLR
Beam: 18°-180°
3 Lights & Barndoors & case
Wasp-100-3Kit
Hive's multi-light kits feature multiple Omni-Color LED lights, modifiers and stands in hard molded cases with custom foam. This
3 Light kit features 3 Wasp 100
three super spot reflectors, one flood reflector and three stands and barn doors. The custom molded case feature cut outs for all the lights and modifiers as well as space for additional accessories. This case itself is molded from ultra high-strength polypropylene copolymer resin and features a gasketed, submersible design that is both waterproof, dustproof (IP67) and resistant to corrosion and impact damage. This case also features a retractable handle and built-in wheels.
The Wasp 100-C at a glance:
No Flicker Array
Our high-output Omni-Color LED technology creates perfect light at any frame rate
Built in the USA
Designed in Downtown Los Angeles and manufactured in California
Durable Build
Aerospace grade anodized aluminum means a lightweight body ready for any set
Active Cooling Technology
With a silent fan, advanced heat sink, and internal thermometer, overheating is never an issue
Total Profoto Compatibility
A 100mm diameter tube plus bayonet mounts allow usage for hundreds of light modifiers and mounting solutions.
Ultra-Portable Design
Only weighing 2.3lbs and measuring 7" long, the Wasp 100-C is ready to go anywhere
100+ Preset Sources
Access Hive's library of sources matching real life lights and corrective gels
Upgradable Firmware
Never get left behind, the C-Series gets regular updates adding new features, sources, and control options.
Using only 75 watts the Wasp 100-C is equivalent to a 650W Incandescent or 100W HMI utilizing Hive's proprietary Omni-Color array. Profoto® compatibility, modular design, enhanced Bluetooth range and premium aerospace-grade aluminum build-quality make this light ready for any set.
The primary building block for the entire Wasp 100-C product line the Wasp 100-C open face pairs perfectly with all of our modifiers and accessory kits. Without any modifier the light's 180° dome diffuser gives the maximum amount of light shaping options.
With our Omni-Color LEDS you can:
-
Create with color
. Full hue and saturation controls give you the ultimate ability to create an immersive lighting experience with infinite color combinations.
- Match any source.
Thanks to our white light controls, you can easily adjust lighting from warm candle light to cool daylight to support productions in any location or at any time of day.
- Accessorize.
Our light has a 180 degree spread and is compatible with the accessories to shape light any way you want. Use light modifying accessories to customize your lighting for different on screen talent, subjects and locations. Create a theatrical spot light or a soft beauty light, a lantern light or a powerful flood—the only limit is your imagination.
- Be in control.
Control the saturation, hue and color of the light through professional DMX boards or via your smartphone app. It's that easy!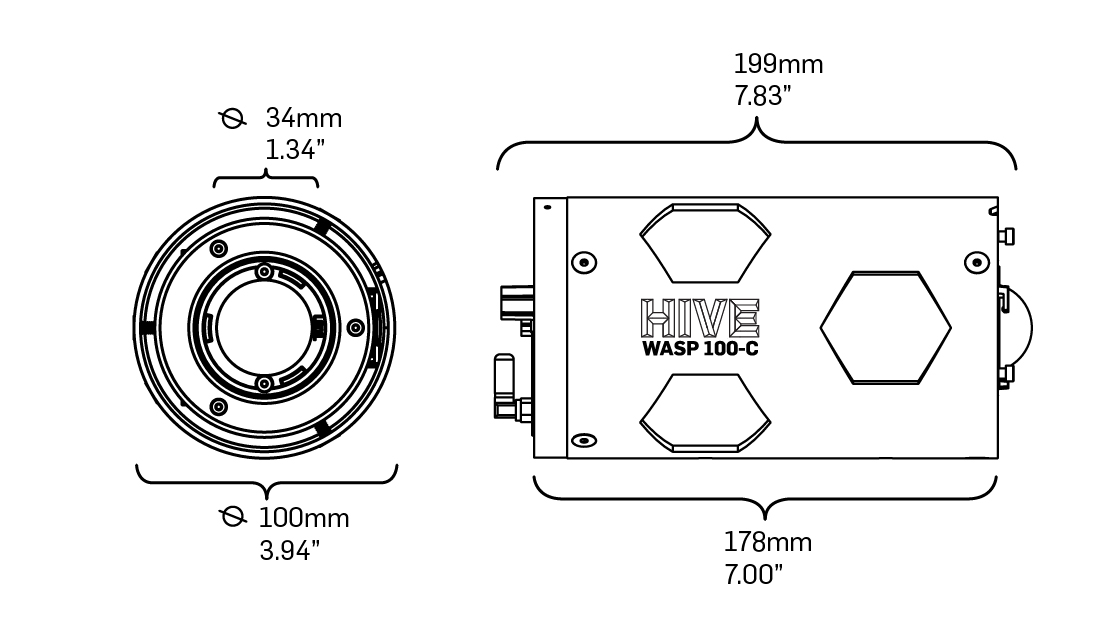 LUX CALCULATOR
https://hivelighting.com/is-versatile/

OMNI COLOR TECHNOLOGY
https://hivelighting.com/is-color/