Metabones SPEF-m43-BT4
€ 15.00 Ανά Ημέρα + ΦΠΑ
€ 36.00 Ανά Τριήμερο + ΦΠΑ
€ 50.00 Ανά Εβδομάδα + ΦΠΑ
€ 117.00 Ανά Μήνα + ΦΠΑ
Electronic Lens Adapter T 0.71x
For MFT-mount Cameras
For Canon EF Lenses
Compatible with Pocket Cinema 4K
Compatible with JVC GY-LS300
Focus & Aperture Control
Speed Booster increase 1 stop
0.71x Wider
SPEF-m43-BT4
Optical
Increase maximum aperture by 1 stop
Increase MTF of any lens attached
Makes lens 0.71x wider
Patented 5-element/4-group optical design incorporating ultra-high index tanatalum-based optical glass by Caldwell Photographic in the USA
Electronic
Autofocus
Can be powered either by camera body or by third-party external 5V power source (not included)
Iris/aperture controlled by the camera body
Image stabilization (IS) lens support
Electronic manual focusing (e.g. EF 85/1.2L II and discontinued EF 50/1.0L)
EXIF (focal length, aperture, zoom range)
Distance and zoom display on camcorders (requires lenses supporting distance information)
Other
Detachable tripod foot compatible with Arca Swiss, Markins and Photo Clam ball heads.
Flocking material coating to reduce the internal reflection.
Compatible with most of MFT mount cameras, including GH4, OMD, BMPCC, BMCC and JVC GY-LS300. (More details refer to the Compatibility List shown below.)

LIMITATIONS
EF-S lenses require modification to fit (but third party DX lenses can be used without modification)
Some EF-S and DX lenses may not have enough coverage of the entire image circle for stills after widening by 0.71x (but video will have enough coverage).
No video AF for Olympus
AFC (continuous AF) and AFF (flexible AF) modes are not supported
Panasonic video AF may hunt more than a native lens or have unsatisfactory performance.
EF-mount lenses are not silent but may make audible click noises during autofocus operation and iris changes which may be picked up by the built-in microphone of the camera. An external microphone is recommended for video.
Iris changes are unsmooth but in 1/8 stop steps which may be noticeable in video recordings. Programmed exposure mode and shutter priority exposure mode should not be used for video.
No support for in-camera correction such as peripheral shading, CA and distortion
Designed to cover a 24mm image circle but not enough to cover Super35 so JVC GY-LS300 needs to have VSM configured to 86% (4k)
Always Enhance and Never Degrade the Performance of the Attached Master Lens
Like the ULTRA series for Sony E-mount, the new Speed Booster ULTRA m43 uses an advanced 5-element 4-group optical design incorporating ultra-high index tantalum-based optical glass. However, the new design is specifically optimized for the Micro Four Thirds sensor and filter stack, and as a result achieves an astonishing level of performance that sets a new standard for focal reducers.
Like the revolutionary original Metabones Speed Booster
®
announced in January 2013, the Speed Booster ULTRA m43 has a magnification of 0.71x, and so it effectively reduces the crop factor of mirrorless Micro Four Thirds mount cameras from 2.0x to 1.4x. However, the new ULTRA design makes very effective use of exotic materials at the furthest limit of glassmaking technology, and as a result is almost perfectly corrected for use with all fullframe SLR lenses regardless of aperture. The Speed Booster ULTRA m43 will also work extremely well with many DX and APS-C format lenses provided the image circle of the lens is large enough. Optical performance of the new Speed Boosters is so good that the MTF of any lens attached to it will be improved. Even the latest generation of ultra-high performance SLR lenses such as the Zeiss Otus series can be improved by adding a Speed Booster ULTRA m43. (More information can be found in the press release
here
and whitepaper
here
)
Autofocus with an Optimum Balance of Accuracy, Speed, Consistency and Reliability
New in Speed Booster ULTRA for Canon EF Mount to Micro Four Thirds is autofocus on Panasonic camera bodies, subject to certain limitations (see table above for details). We are pleased to report that Panasonic Micro Four Thirds camera bodies are capable of autofocusing accurately even if the maximum aperture of the Speed Booster and the lens combined is in the sub-f/1.0 range. Although our first and foremost priority is accuracy, we are able to make great strides in autofocus speed as well.
Select the correct EF-MFT Speed Booster for your camera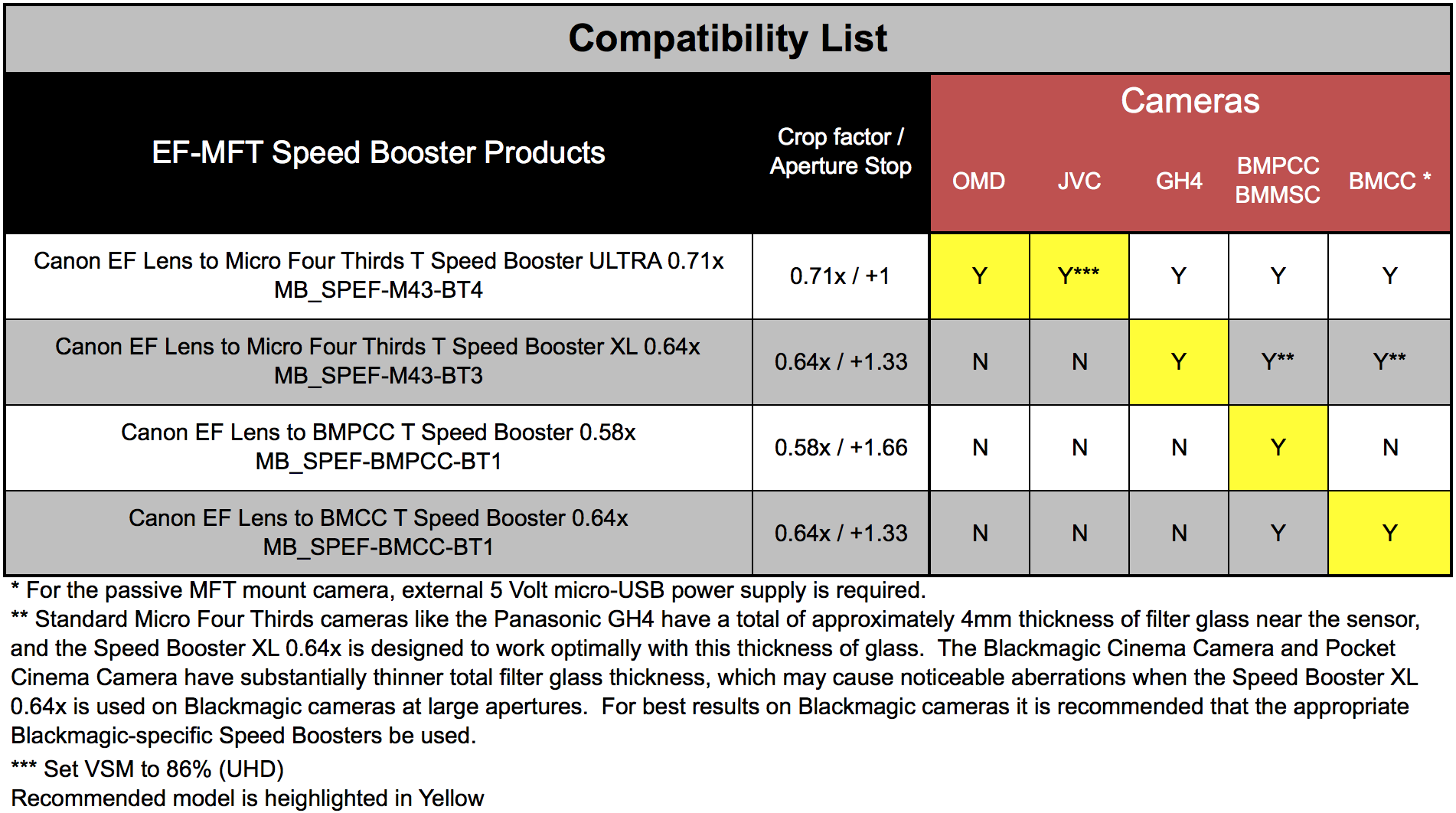 Autofocus Lens Compatibility List
Accurate
Tested by the community, thanks!
Accurate only on newer cameras such as Panasonic G7 and GX8
Canon EF 8-15mm f/4L USM Fisheye
Canon EF 20-35mm f/3.5-4.5 USM
Canon EF 24-105mm f/4L IS USM
Canon EF 28-80mm f/3.5-5.6 II
Canon EF 35-80mm f/4-5.6
Canon EF 40mm f/2.8 STM
Canon EF 50mm f/1.2L USM
Canon EF 50mm f/1.4 USM
Canon EF 70-200mm f/2.8L IS II USM
Canon EF 70-300mm f/4-5.6L IS USM
Canon EF 85mm f/1.2L II USM
Canon EF 100mm f/2.8L IS Macro USM
Canon EF 100mm f/2.8 Macro USM
Canon EF 100-400mm f/4.5-5.6L IS USM
Sigma 18-35mm f/1.8 DC Art
Sigma 18-125mm f/3.8-5.6 DC HSM
Tamron SP 24-70mm f/2.8 Di VC USD A007
Tamron SP 70-200mm f/2.8 Di VC USD A009
Tokina AT-X PRO 11-16mm f/2.8 DXII
Canon EF 70-200mm f/2.8L IS USM (Mark I)
Canon EF 85mm f/1.2L USM (Mark I)
Canon EF 200mm f/2.0L IS USM
Canon EF 300mm f/2.8L IS USM (Mark I)
Canon EF 400/2.8L IS USM (Mark I)
Canon EF 70-200mm f/4L USM
Canon EF 135mm f/2L USM
Canon EF 200mm f/2.8L II USM
Canon EF 300mm f/4L IS USM
Inaccurate
Canon EF 50mm f/1.8 II
Sigma 50mm f/1.4 EX HSM
Tamron 28-300mm f/3.5-6.3 XR Di VC A20
Manual focus only
Not supported
Contax N lenses modified by Conurus
Zeiss ZE lenses
Tamron SP 17-50mm f/2.8 VC B005

Manual Focus Lens Compatibility
Some improperly-made M42 screw mount adapters may short the electronic contacts of the Speed Booster and cause damage to the Speed Booster and/or camera body.
Focus confirmation "chips" such as Dandelion are incompatible.
Many manual focus lenses (e.g. OM 28/2.8, OM 50/1.8, Leica R 15/3.5) have rear protrusions (spikes, levers, other appendages) which would damage the optics and/or housing of Speed Booster. They need to be modified before they can be safely used on Speed Booster. Check and make sure there are no rear protrusions from the adapter/lens combination before using on Speed Booster. Scratches and damages caused by rear protrusions on Speed Booster are not covered by warranty.

List of manual focus lenses which REQUIRE MODIFICATION to be used on Speed Booster
Leica R

Super-Elmar-R 15mm
Elmarit R 28/2.8
Elmarit R 35/2.8
Summicron R 50/2

Nikon F

20/2.8 AI-S

Olympus OM

OM 18/3.5
OM 21/2
OM 21/3.5
OM 28/2.8
OM 50/1.8

Pentax K

Every Pentax K-mount lens has a protruding fin and an aperture lever. It does NOT fit.
Remark: Your PayPal receipt is your order confirmation. There is no separate email confirmation until shipmen